AN EDUCATIONAL EXPERIENCE GEARED TOWARDS KINDERGARTEN THROUGH 5TH GRADES.
Students will experience an up close and personal look into the life of the Anasazi. Here they will learn about Anasazi culture, including how they farmed, hunted and endured.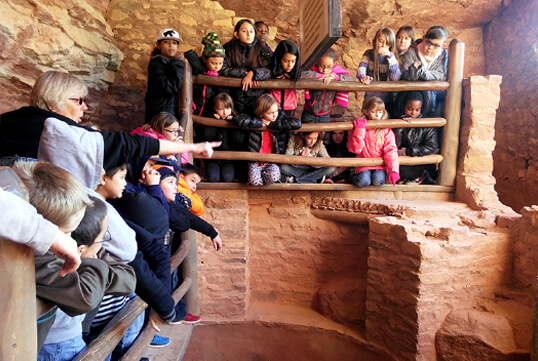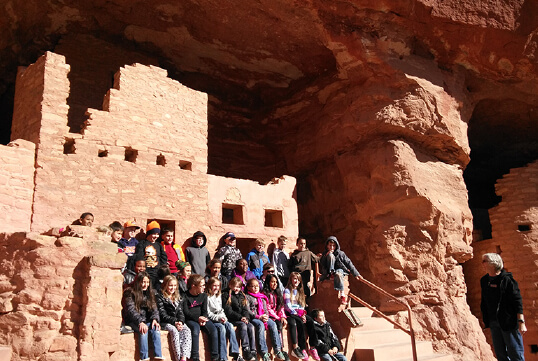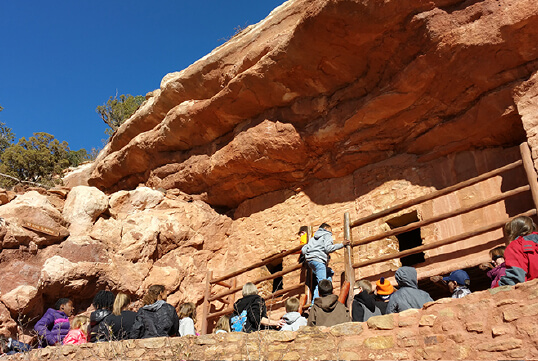 HIGHLIGHTS INCLUDE:
In depth guided tour through the cliff dwellings
Hands on corn grinding with mano and metate stones
Museum exploration
Informative movie on cliff dwellers, approx. 17 min.
Discussion and hands on experience of Native American artifacts
Personalized pottery painting
RECOMMENDED FOR GRADES K THROUGH 5
Available weekdays, September through May only
Approximately 2 hours in length
Minimum of 20 students and a Maximum of 125 students
Cost is $7.00 per student for complete tour, ($6.00 without pottery painting option)
One teacher or chaperone admitted free with every 10 paid students
Groups of less than 20 students can pay a flat fee of $130.00
EDUCATIONAL STUDENTS AND TEACHER STUDY GUIDES ARE AVAILABLE, SEE LINK BELOW.
Student Quiz:
1. Cliff Dwellings Quiz
2. Gift Shop Museum and Pueblo Museum Quiz
3. Messages on Stone
Teacher's Guide
1. Gift Shop Museum and Pueblo Museum Quiz
2. Cliff Dwellings Quiz
We do fill up quickly, so please contact us as far in advance as possible for best available dates and times. Tours available September through May only. Due to traffic and volume we do not offer tours June, July or August. Special rates are available for Scouts groups, daycares, and summer camps.